Innovative project education – English language for children by International Language Camp LuckyKids
International Language Camp LuckyKids has a unique teaching methodology that follows all international trends in the pedagogy of teaching English language for children.
The whole theoretical part, the themes of teaching and the grammar exercises are united in a program that is specially developed by the camp team and is managed by the English language coordinator.
Interactive education
International Language Camp LuckyKids has two fully-equipped interactive halls for English language education for children. Interactive education is provided at the two highest levels by each shift.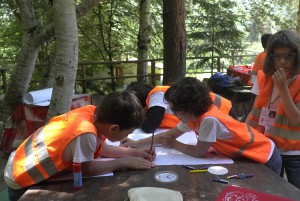 All other halls are equipped with a screen and a computer that serve for the introduction of interactive tools in the classroom. The difference with them is that children work on paper rather than on tablets. It often happens that work on paper is preferred at lower levels of English language, since children in such groups are also younger and unable to use electronic tools.
It is extremely important for all teachers in LuckyKids to show the children what else a tablet can be used for, apart from for playing games or social networking.
Educational blocks
Lessons in the camp are divided into two blocks of 80 minutes each, with a 20-minute break between them.
Such a division is necessitated by project teamwork.
Each camp shift has a major theme, and each English language level has a major sub-theme.
The first block of 80 minutes from the English language education comprises a theoretical part, grammar, introduction to new material and grammar exercises. Attractive presentations by teachers are also included in it as a must.
All exercises in the interactive halls are done on tablets.
Full details about the children's work, the presentation and the teacher's report may be obtained by parents electronically.
In this first block, children learn about the basic application of Google's educational platform, which they can use to prepare for their presentation and the presentation at the end of the period.
LuckyKids Themes
Global Theme
Art-zone
The Future Tomorrow
The Oscars 2017
Planet Earth – our home
The Sound of Music
Health Nutrition
Level
Session 1
Session 2
Session 3
Session 4
Session 5
Session 6
Upper-
Intermediate
Modern Art (especially Cubism)
Future job positions
Produce a Play + Presentation – History of the Oscars
Our responsibilities
Underground Music of 21 Century
Why is all food good?
Intermediate
Da Vinci's Code
Future homes and vehicles
Best movies of 2017
What if….
Best composers of Movie Soundtracks
What is actually in our food?
Pre-Intermediate
Produce and Exhibition
Future fashion
Produce a Play
How to produce green energy
Song writing/writers
Health & Nutrition
Elementary
Common between Art and Turtle Ninja
Future toys
Best actors of 2017
Stay Green
Pop and Rock Stars of 20th Century
Healthy food
Beginner
Vincent Van Gogh's World
How I see the Future
Best Disney Movie
How to protect our planet
Best Musicals in the world
Fruit & Veg
Innovations
Another important knowledge they acquire is their ability to make presentations. All teachers take the time to show the children how it is best to make a presentation, what behavior they should adopt during the presentation, how to present the text part of the presentation, and what materials are appropriate to use.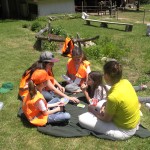 In order for the children to be able to work in a team, they use the online Google News app. Through it, several children can work simultaneously on the same presentation from different tablets, no matter where they are.
In the second block, children work in groups of two or three on a presentation on the given theme for the specific level. The purpose of such a division of children is for them to learn how to work in teams, which in turn supports the camp's program related to learning the basic virtues.
Working on presentation pretty much expands the area in which children acquire knowledge. A prerequisite for the presentation is for children to be able to cite reliable sources and sift the valuable content from among the vast amount of information available on the web space.
When placing quotes, children must indicate the source of the quotation and put a copy of the link at the end of the presentation in order to comply with the copyright.
Each presentation may contain music, pictures, animation, video – more new areas where children gather new knowledge by working with other applications, in that, in English.
During the classes, classical music (Mozart, Beethoven, Bach and Brahms are among the favorite composers of our teachers) will be heard throughout the camp.
Quiet classical music as a background has a proven positive impact on the perception of new information and the easier assimilation of new material in both children and adults.
All teachers in the camp follow the basic rules of teaching and the themes assigned to them by the English language coordinator for children while at the same time being free to use different methods and tools depending on the dynamics of the particular group.
The team of teachers at LuckyKids has several goals to achieve:
Excite children's interest in acquiring new knowledge in the English language.
Show children the immense opportunities of technology, in their usefulness.
Encourage children to develop basic presentation skills that would be useful later in life.
Show children that English language classes for children can be fun and interesting.
Stimulate each child to develop their individual qualities and abilities.
Classes in the nature: once a week, the camp allows itself to "escape" from technology and "hide" high in the Rhodopes, where children can spend the whole day in:
Outdoor classes.
Horseback riding.
Games on the lawn.
For this day, teachers have special preparation and they develop mini-projects with children other than their main presentations. All classes take place in an informal setting: on a wooden table and benches or on a blanket on the lawn. This day is a revision day, and all exercises aim to reinforce the new knowledge in children.
The second block is extremely entertaining and different from all other blocks. The children will often come back with developed projects from unprocessed, recycled, non-traditional, natural and/or waste materials (all of which are safe for their health).
Classes in the nature and the interaction with animals such as horses give a very positive effect on the children's psyche, and they tend to associate their experience with positive emotions which helps them to enhance the overall effect of the program.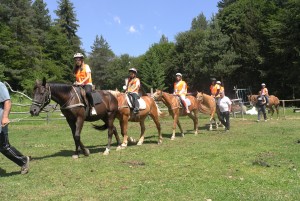 The Virtues Program: Love, Respect, Patience, Friendship, Tolerance, Courtesy, Carefulness, Devotion, Consistency are just few of the virtues the children are acquainted with during their stay.
The teachers have the task to present one virtue to the children every morning that they will try to follow later in the day.
The teachers will often work in a team with children – presenting of a fairy tale or performing a song, a short dramatization, etc.
All children show tremendous enthusiasm in the presentation of virtues as well as in their pursuit.
For outstanding merit, children are awarded every night with stickers stuck to their sticker cards.
At the end of every English language camp, animators and lecturers distinguish each child with a certificate of a particular virtue which s/he manifested the most.
The main virtue followed by everyone in LuckyKids is Respect: respect among all campers, respect from children to teachers and from teachers to children, respect for all others.
The English language teaching program for children yields good results because it is based on a basic maxim: education through care and love for children.