You are at work during the day and it is a school holiday – the kids have a lot of free time. How to be sure that you are only dealing with safe and meaningful things when there are so many traps on the Internet and on the street?
You can forget these worries by signing them up to the LuckyKids International Children's Camp in Bansko. This will provide them with an exciting, exciting, memorable vacation and, most of all, they will greatly improve English language skills.

LuckyKids is an English camp for children. All classes and games here are held in English, participants 24 hours a day are in an English-speaking environment. Children use English to communicate with each other, teachers, and animators.
In general, the camp is for participants with an initial to medium level of language mastery. However, the practice has shown that even children who have not yet learned English, communicating informally with others and assisted by experienced teachers, quickly overcome the barrier and begin to "speak" in English. The camp is for children aged 5 to 14 years.
It is important to note that the teachers are from English-speaking countries – their English language is born. The animators are Bulgarians, perfectly fluent in English, and have been involved in organizing children's entertainment for many years.
The lecturers in the camp have a rich international experience in teaching English to children. Team members are familiar with personal experiences with UK and Ireland, the United States, the United Arab Emirates, and Russia. There is also an English Department Coordinator. All this has enabled the teaching staff to compile the overall program of the camp, which is the world's leading practice.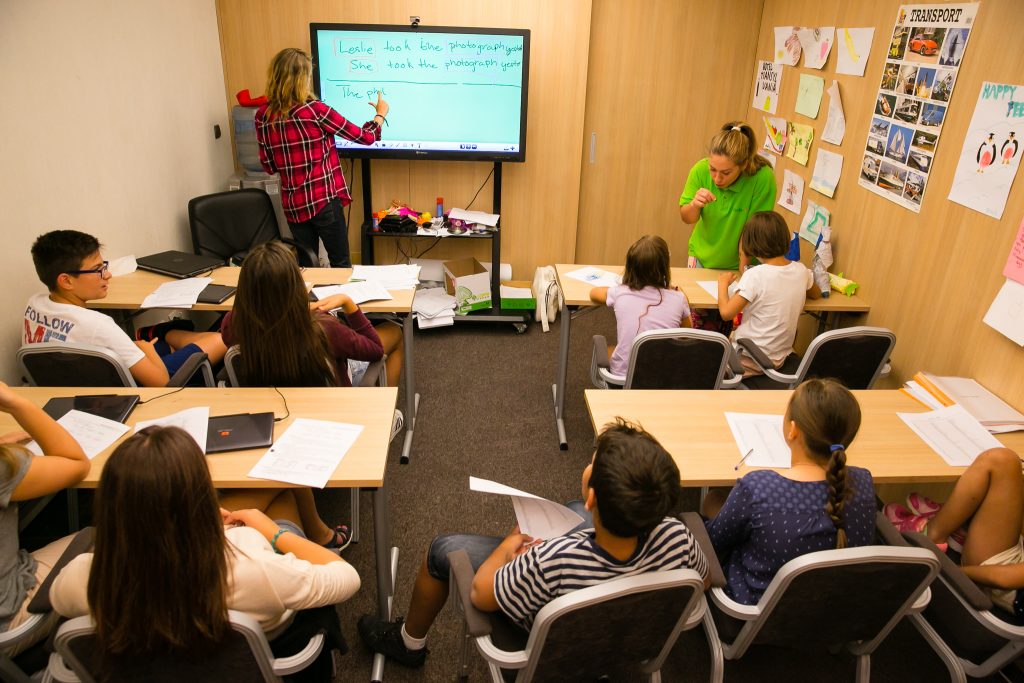 Of course, safety and security is the first choice. The camp is based in the Lucky Bansko Spa & Relax 5 star Aparthotel. It is entirely and to the smallest detail consistent with the presence of children – the hotel does not even have sharp edges and fragile glass, and the floors are carpeted. Entertainment there are discos, dances, dinners of talents, of different nationalities, treasure hunting.
Children are 10 in a group, with one teacher or animator every 5 years. This ensures the control and security of children during the camp. They are never alone, without trained adults. On the floor with the children are also accommodated the teachers and animators, who watch for the peace at night.
In swimming pools, for example, children are seen by a savior, a teacher and an animator. In horseback riding, each child's horse is guided by an individual driver, safety devices such as helmets, and other. All safety measures are also taken during mountain biking, paintball, etc. The mountain groups always have a qualified medical practitioner who is equipped with everything you need.
The teaching methodology is also based on leading international standards. Here knowledge is not "poured" to memorize. The children themselves come to it in an interesting and fascinating way: they perform tasks on projects, make presentations on given topics, discuss cases. This activates their creative potential. They become active participants in the learning process, of course, under the guidance of experienced teachers. As it is known (so is also the case for adults), when it is interesting, it learns more quickly and efficiently, and the lessons learned are lasting.
Parents will be able to see the progress in English with the tests at the beginning and end of the camp, and will receive a detailed analysis.
If we need to be short – interesting, safe, useful. Take advantage of it!